We are very happy to announce that the AgentPress 2.0 Beta child theme is now available for testing. If you are a Pro Plus member go ahead and download the theme and give it a test drive. If you are curious, you can read about what's new with AgentPress 2.0.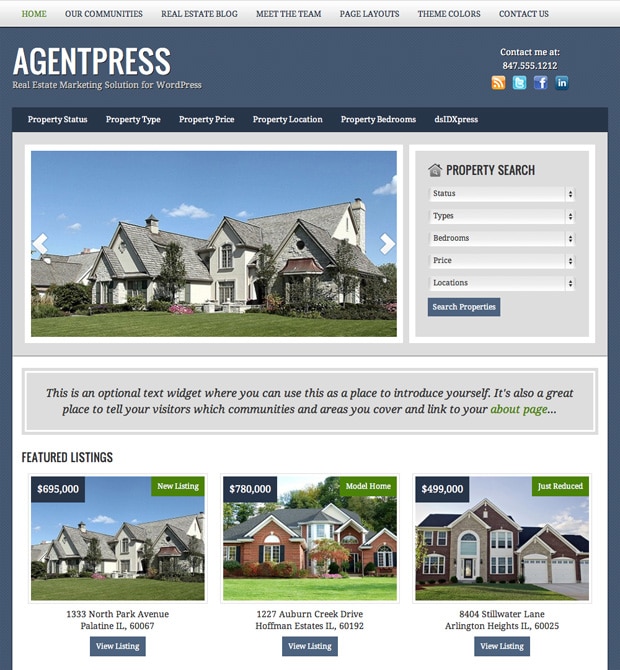 Color Styles
The theme has been designed with two color styles – you can check out the blue/green style as well as the gray/red style. We're hoping to have anywhere between 3-5 color styles that will be included in the final version. More to come with color styles…
Homepage Options
The AgentPress homepage has been coded to load as a blog upon activation. However, if you wish to use a slider, property search box, display featured listings, community pages, recent blog post or more – you can! Just check out the AgentPress sample homepage to see what it can do.
IDX Integration
We are working with Diverse Solutions and IDX Broker to provide integration with their WordPress IDX plugins. Here's a sample search results page and a sample property listing page from the dsIDXpress plugin by Diverse Solutions.
Listings Custom Post Type
In order to use feature which allows you to manually enter real estate listings, you'll need to download the AgentPress Listings plugin. After you activate it, you'll see "Listings" menu in the sidebar of your dashboard – that's where all the magic occurs!
Tutorials Coming This Week
We're calling this week "AgentPress 2.0 Beta" week, where we have released the preliminary version of the theme and also use our blog to provide tutorials on how each feature can be used. In the meantime, please provide feedback and report bugs in the AgentPress 2.0 support forum.