Design Palette Pro
Customize your Genesis-powered website.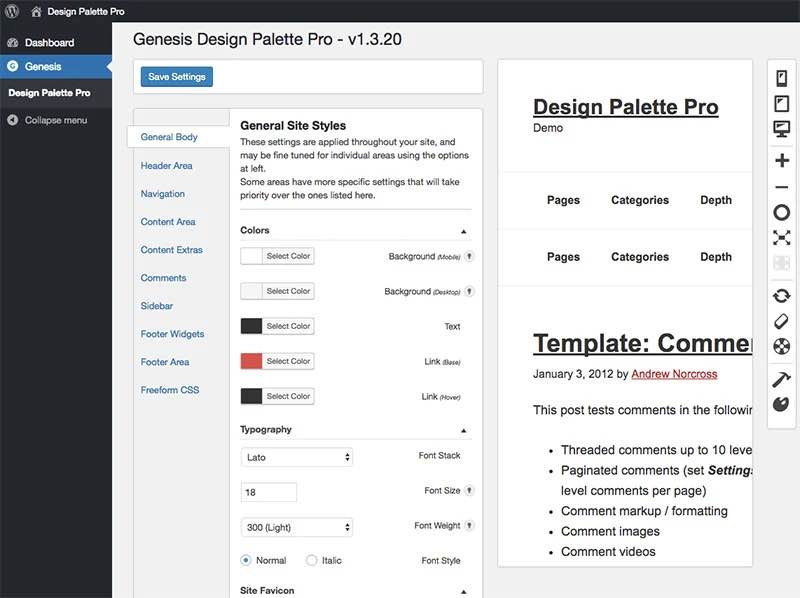 Advanced Theme Edits Made Easy
(So easy … even a non-coder can do it.)
You purchased the Genesis Framework because you heard it was awesome, then saw so for yourself. But then you discovered that to change your "look" you'd need to write or edit some code. Scary stuff if coding's not your thing, which it probably isn't (which is okay). Because guess what?
Now you don't need to worry.
Now you can customize your Genesis theme on your own … and you won't need to write, edit, or even sniff any code to do it.
That's our guarantee …
Code-Free Customizations
You can quickly and easily modify the look of each area on your site without touching any code. This includes the header, navigation, content area, sidebars, and footers.
And you can edit darn near anything! Colors, fonts, backgrounds, margins, and padding … all can be changed in a jiffy. Just point, click, customize.
Preview Mobile Layouts
The days of designing for one device are over. Now, you need a site optimized for mobile devices (first) that will still look stunning on a desktop too. But good luck finding an efficient way to edit and test changes across devices … until now. Design Palette Pro gives you the ability to easily switch between desktop, mobile, and tablet live previews … so you can see exactly what your readers see.
Child Theme Add-ons
Design Palette Pro works with the Genesis Framework alone and also the following child themes. Additional child theme add-ons will be released soon!
411 Pro
Academy Pro
Agency Pro
AgentPress Pro
Altitude Pro
Ambiance Pro
Atmosphere Pro
Author Pro
Authority Pro
Beautiful Pro
Café Pro
Centric Pro
Daily Dish Pro
Digital Pro
Education Pro
eleven40 Pro
Enterprise Pro
Essence Pro
Executive Pro
Expose Pro
Focus Pro
Generate Pro
Going Green Pro
Interior Pro
Infinity Pro
Lifestyle Pro
Magazine Pro
Metro Pro
Minimum Pro
Modern Portfolio Pro
Modern Studio Pro
Monochrome Pro
News Pro
No Sidebar Pro
Outreach Pro
Parallax Pro
Remobile Pro
Revolution Pro
Sixteen Nine Pro
Smart Passive Income Pro
Streamline Pro
Wellness Pro
Whitespace Pro
Wintersong Pro
Workstation Pro
Frequently Asked Questions
Will this work with StudioPress child themes?

Short answer: Yes! Above is an ongoing list of themes we sell on StudioPress that work with Design Palette Pro.

Do I need any coding skills at all to use Design Palette Pro?

Nope. That's the point!
Will this break customizations in my child theme?

Nope. Design Palette Pro generates a custom CSS file and does not replace any code or style inside your child theme itself.

What do you mean above by "guarantee"?

Simple: if for any reason you are not satisfied with Design Palette Pro, just let us know and we'll refund your money. You literally have nothing to lose but stress and dissatisfaction with your design — and who couldn't use less of those?
Simply put … Design Palette Pro
Makes Genesis Customizations Easy
(We guarantee it.)
1 Site License
1 Year Standard Support
1 Year Upgrades
Documentation
Import / Export
Live Preview
Extensions
Priority Email Support
Exclusive Palettes
50 Site Licenses
1 Year Standard Support
1 Year Upgrades
Documentation
Import / Export
Live Preview
Extensions
Priority Email Support
Exclusive Palettes
5 Site Licenses
1 Year Standard Support
1 Year Upgrades
Documentation
Import / Export
Live Preview
Extensions
Priority Email Support
Exclusive Palettes