Why the Open Source Genesis framework is the Foundation of Any Smart WordPress Design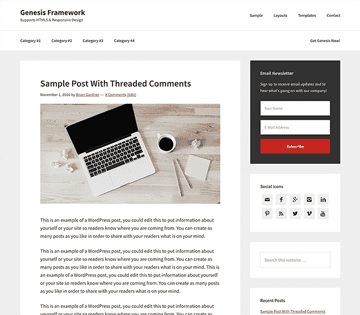 The Open Source Genesis framework is
Search Engine Optimized
You put a lot into your site – you want to make sure that you're ranking well in the search engines so readers, customers, and clients can find you. And clean, optimized code + smart design architecture is important for achieving the best rankings possible.
In addition, Genesis now supports Schema.org code, which allows you to output microdata in your site's code. This enhances your site's search engine optimization even further. The Genesis Framework has always handled the basics of good SEO for you, like lightweight code for fast performance, and now it's even better.
Our Open Source themes have been fully search optimized by Greg Boser, search engine optimization pioneer and industry expert. With automatic updates to the Genesis Framework, you never have to think about it again. Your code will always be up to date and fully optimized.
Ready to get started? Check out our Open Source themes.
Built on HTML5
Genesis Delivers Responsive Turnkey Designs
You want sleek, professional design — without paying a fortune for it and without fearing instant obsolescence. Genesis' turnkey designs give you an array of beautiful frames for your content built on HTML5.
How does HTML5 enhance your site? First, it's the new code standard, which will make your site compatible with future changes to the web. Secondly, it will ensure cross-browser compatibility. HTML5 makes your site mobile-friendly by being responsive, and it will improve your site's ability to deliver audio and video. And it's completely extensible — want your site to behave like an app? Go for it. Simply put, HTML5 is your site's ticket to a truly state-of-the-art design.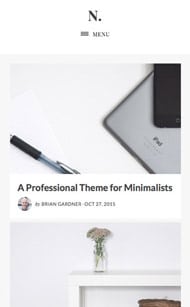 And of course, we're constantly crafting beautiful new themes to add to your design options.
The way your site looks can be instantly updated by what's called a child theme, while all of the SEO benefits and core Genesis functionality remain untouched. That means that changing the look of your site is a snap — and you don't need a designer or developer to do it. You could radically change the look of your site every week if you wanted to, and you'd never hurt your search engine rankings … because your design functions are kept completely separate from the core code.
And if you decide to pick up Genesis Pro, you'll get support for all of the StudioPress-made child themes and a powerful toolkit for building better sites faster with the WordPress block editor.
With Genesis you get
Unlimited Everything
You get unlimited support for 1 year. Unlimited updates. Unlimited websites. There's no "Developer Option" here. One low price entitles you to unlimited support for 1 year, updates, and domains you can build on. If you've got multiple websites (or client projects), Genesis offers unparalleled value.
And when you want answers to questions about your site, you want them now. This is why our support team consists of product experts who provide solutions and help to our hundreds of thousands of members. We're for you!
Genesis Gives You
State-Of-The-Art, Airtight Security
WordPress sites can be vulnerable to those who want to take your site down or exploit it for malicious reasons. Having your site hacked is an expensive, time-consuming hassle — and it can really damage your reputation.
We brought security expert and core WordPress developer Mark Jaquith in to make sure the Genesis Framework has the best security possible. With his guidance, we built our framework to follow all WordPress security best practices.
Genesis Lets You
Update Your Site Instantly
Many sites are hacked (or just don't use WordPress to the fullest) because they have not been updated. And site owners don't update because sometimes it can feel pretty complicated. Many WordPress users have spent hours or even days fixing a problem created by updating.
But we make updating to the current version of WordPress and Genesis a snap. Everything is integrated, so you don't have to call your developer. We test all updates thoroughly, so you're not playing guinea pig. Just click the button and you're done.
If you've got multiple sites, you will love the way that the framework works with our turnkey child theme designs to keep the look of your site exactly the way you want it while letting you quickly update the important code that runs in the background.
Ready to get started? Check out our themes.
Customizable and Fast
Genesis Makes Site Customization Easy … Without Sacrificing Speed
Genesis offers features to make it simple to set up your site exactly the way you want it. And if you change your mind later, you're just a few clicks away from creating new sections and functions. But unlike other frameworks, you don't have to sacrifice performance for options.
Nothing slows down a site like bloated code, but we obsess about making Genesis cleaner and more lightweight. Web page load times are usually discussed in seconds, but page load times for sites built on Genesis can often be measured and discussed in milliseconds. And today, that's an essential difference.
Widget Ready
WordPress widgets are the quick and easy way to add powerful functionality to your site. Without having to know anything about code, you can use simple widgets to add sidebars, social media sharing buttons, opt-in forms, and much more.
Theme Options
Want to change your site layout? Choose an alternative color scheme? All of these options and more can be selected from a dropdown box. Adjusting these critical options is easy, and your site is updated instantly.
Comment Functionality
Comments are a great way to build engagement and loyalty with your readers. Our themes give your readers a great comment experience, including threaded comments and Gravatar integration.
Ready For Advertising
Most of our themes are ready for advertising. Just insert your advertising code, like Google AdSense, Clicksor, or any others, into a text widget and start collecting your advertising revenue.
Auto-Sized Featured Images
There are millions of websites out there. If you want yours to stand out, you need to draw attention to your blog and articles … and nothing sparks interest better than using great images. But image management and creating thumbnails can sometimes be a hassle. We've made thumbnails simple by integrating our themes to use WordPress' featured image capability.
WordPress and Theme Tutorials
Want to go a bit further with WordPress? Want to get even more out of Genesis? Our tutorials will teach you all you need to know.
One-Click Demo Install
Building your own theme or installing a new theme? Theme authors can define—and sites can load—demo content, plugins, and perfectly-designed Gutenberg blocks onto the home page of a new site using that theme automatically and in a matter of minutes!
Genesis Comes with
Custom Widgets & Layout Options
Because the Genesis Framework has been widgetized beyond just the sidebar, we developed some custom widgets for you to use on any area of your site. Another great feature is that you can "mix and match" your layout. This means you can choose, via a radio button, any of the 6 layouts for each one of your individual pages or posts.
Custom Widgets
Here's a list of the custom widgets available with the Genesis Framework:
User Profile
Displays the Gravatar of a user, as well as their bio and a link to an About page.
Featured Posts
Displays post excerpts and a thumbnail to be used in a featured section.
Featured Page
Displays page content and a thumbnail to be used in a featured section.
Layout Options
You're no longer limited to one layout for your entire site! Many of our themes come with the flexibility to choose your default theme layout from the Theme Settings page as well as on an individual page or post. The following layouts come by default on the Genesis Framework:
Full Width Content
Sidebar / Content
Content / Sidebar
Sidebar / Sidebar / Content
Content / Sidebar / Sidebar
Sidebar / Content / Sidebar
A Wonderful Community with
Developers You Can Trust
Creating a WordPress blog is simple with Genesis, but many people still prefer to outsource it. Or you may want a customized design, or even a designed-from-scratch look and feel that reflects your own brand.
We maintain a list of talented, reliable freelance WordPress designers and developers that you can hire to give you the exact look you want. Many of the sites in our Showcase were designed by these creative people.
How Do I Get Genesis?
Explore options for getting access to and support for the Genesis Framework and many of our block editor tools for free and integrated with premium managed WordPress hosting.
Get Genesis support with Genesis Pro and you'll also get support for all StudioPress-made themes and a great toolkit for building better sites faster with the WordPress block editor.
Just the
Genesis Framework
Building a custom-designed site and just need the framework? Genesis provides the secure and search-engine-optimized foundation for your digital business.